Enjoying Life Fully LLC
(973) 988-3530
Lincoln Park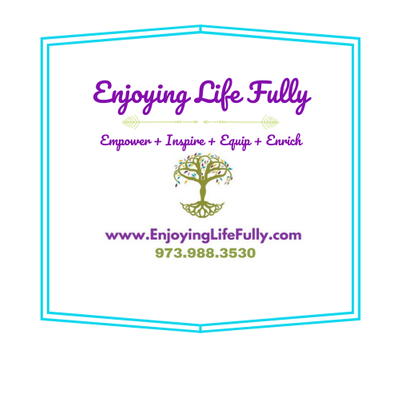 Enjoying Life Fully's mission is to empower, inspire, equip, and enrich clients through authentic mentoring, breakthrough life coaching, transformative life mapping, and recovery from grief and loss while facilitating client flourishing in purpose and dreams and experiencing greater fulfillment via:
Cocoon of Care (wraparound services)
Life Coaching (career, personal, mental, emotional)
Mentoring (youth, teens, young adults)
Grief & Loss Recovery (Death, Divorce, Financial Loss or Change, Getting Married, Graduation, Having a Baby, Infertility, Job Loss or Change, Loss of Trust, Safety, or Control, Loss of Hopes, Dreams, or Expectations, Loss of Pregnancy (ie. Miscarriage; Termination), Loss of Faith, Loss of Meaning or Purpose, Loss of Health, Illness, Injury, or Paralysis, Loss of Freedom, Loss of Childhood, Romantic Break-up, Moving/Relocation, Pet Loss, Pregnancy, Psychological Diagnosis (ie. Depression; Anxiety; PTSD), Retirement
As a Certified Professional Life Coach, Life Strategist, Certified Mental Health Coach, and Certified Advance Grief Recovery Specialist specializing in breakthrough and transformation, the principle serves clients as their change catalyst and personal redevelopment engineer. Facilitating clients developing personal leadership (self-awareness, self-development, and self-management/regulation) is centric. Supporting and engaging clients towards living a life of fulfillment and purpose through individualized or group services, awakens and champions hopes, dreams, and aspirations with a forward view —current reality vs. desired reality. Forming an alliance and accountability relationship inspires the client to establish a self-realized path toward leveling up. The principle holds certification in Psychological and Mental Health First Aid, Mental Health Youth First Aid, and Mental and Behavioral Health Disorders.
Age Groups
Community Services

Community

Education

Employment / Training

Family & Support Services

Spiritual / Cultural

Health Services

Behavioral / Mental Health

Treatment Services

In-Community Services

Outpatient Services

Payment Options

County Funding
DCP&P Contracted Service
Low Cost / Donation
Scholarships / Financial Aid
Self Pay
Sliding Scale / Payment Plans

Areas Served

Essex County
Hudson County
Morris County
Passaic County
Last Updated: 04/20/23